Things that made me happy this week
I'm going to level with you. 2021 is off to a not-that-great start. But I'm sure I don't have to tell you that! I really think we're all feeling it.
I've been writing like crazy considering a started a New Blog and I've been maintaining a YouTube Channel by posting a new video every single week. Not to mention numerous *secret* projects that are just too big to share right now!
Unfortunately, though, my computer utterly failed me by crashing recently and I found to my dismay that hours upon hours of my writing work is completely MIA.
I no doubt have to reconcile this soon, but for now, I'm only motivated to write about a few of the little things that made me happy in what was otherwise a pretty rotten week. If you, too, are having a rough time right now, perhaps you'll spot something on this list that will also speak to you.
The Art of the Occult: A Visual Sourcebook for the Modern Mystic
The Art of the Occult is an absolute coffee-table must have! It was written by the incomparable Sarah Elizabeth who not only keeps a fabulous blog called Unquiet Things, but she's also once interviewed me for Haute Macabre and recently started her own YouTube Channel.
In this quarantine world that we find ourselves in, I am seriously feeling a hole in my heart that is normally filled with the joys of silent, contemplative trips to an art museum. The Art of the Occult was truly the first thing in these ten long months to give me the meditative delights of pondering carefully curated art that I crave.
With artworks ranging from the 600s to as recently as 2019, S. Elizabeth expertly weaves together a diverse collection of artists and mediums by examining the mystical themes that bind them all. By looking at a variety of artistic portrayals of motifs such as Geometry, Astrology, Gods, and Witches, we are taken on a uniquely insightful journey through the history of spiritual exploration.
The beautiful, historic artworks are reason enough to pick up this book, but the astute readers who comb every word of Sarah Elizabeth's wealth of knowledge will notice familiar artistic giants such as Leonardo De Vinci, modern artists interrogating attitudes toward queerness while triumphing Black identity, no shortage of Victorian masterpieces, and perhaps even a highly meme-able quote about cats.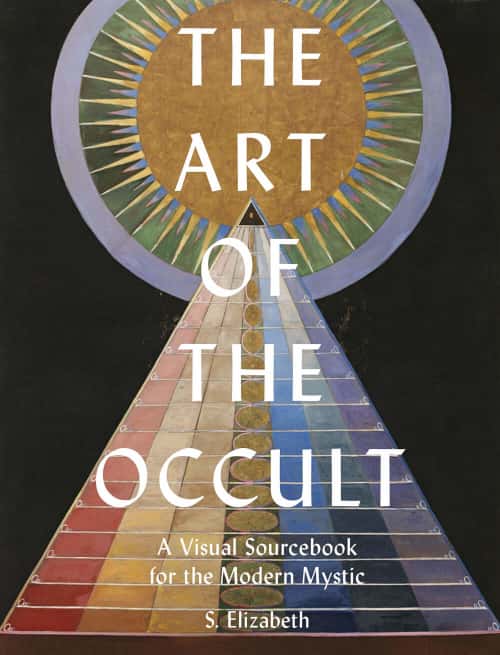 Stickers by AJ Hawkins
I was very fortunate to meet the brilliant artist AJ Hawkins several years ago at a Death Salon conference. Since then, I've been delighted to watch her open and grow her death positive business, KALMA.
AJ and I have a lot in common, so if you're following me then you simply must check her out! Not only do we both explore themes of death and grief in our work, but she is also a fellow disabled artist with EDS and a history of chronic illness. In fact, AJ is the genius who started #SpookySpoonie and #DisabledDarkling and there is a beautiful blog on KALMA'S website which includes a Disabled Darkling series which I was interviewed for.
KALMA'S shop, on the other hand, offers a variety of beautiful, dark, and death-positive wares, several of which I've purchased for myself. This week, I'm especially appreciative of AJ's stickers. I'm someone who loves a good sticker, but I rarely buy them for myself, because I'm always weirdly too afraid to actually, y'know, stick them on something. I'm worried about messing up the sticker. I'm worried about messing up whatever I'm sticking the sticker on. I'm just worried about stickers. Period.
Nevertheless, AJ has made some of the coolest and most relatable stickers I've ever seen, so without knowing what I would possibly do with them, I acquired some anyway.
As it turns out, these stickers make FABULOUS bookmarks! I read everyday and I usually have multiple books going at once, so I need several bookmarks. While reading The Art of the Occult, I decided the most fitting stickerbookmark for it was "THE SPOONIE". Featuring a skeleton surrounded by spoons, the clear tarot card inspiration seemed very fitting for a mystical read, and it made me happy every time I opened my book.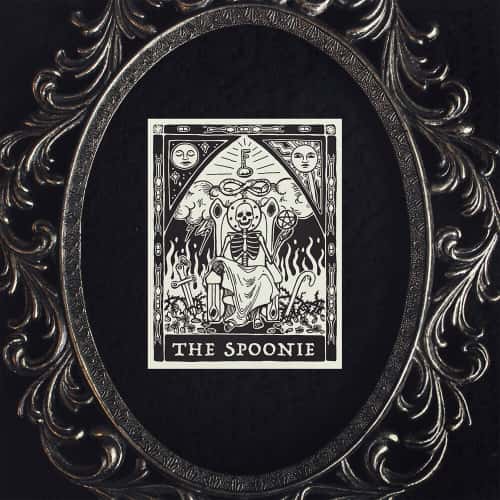 Burials & Beyond Patreon
My dear Kate Cherrell over at Burials & Beyond has started a Patreon!
Burials & Beyond is one of my favorite blogs, and it should be one of yours, too. Kate writes about all the things I love such as Victorian mourning, cemeteries, and sometimes just outright wacky stories from history.
Wanna read about the history of Death Cheese? She's got you covered.
Wanna read about a Chicken Lady? No problem.
What about the grave of a Potato King!? Check, check, and check.
Kate is a PhD candidate specializing in Gothic Literature, Victorian Mediumship, and Mourning, so she really knows her stuff. She's also genuinely the funniest person I know, and I'm thrilled to see what marvelous content is to come through her new Patreon!
(I would like to say that I've read every last one of her blogs, but she has this one entry about the history of masturbating ghosts called Mind that Ectoplasm! which I feel I'm just far too asexual to read… Do with this information what you will.)