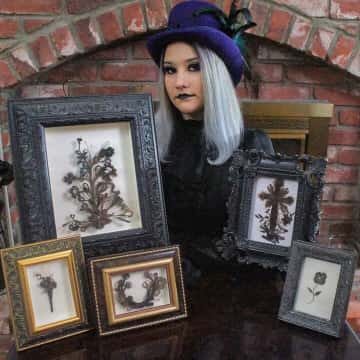 Courtney Lane is a Victorian hair artist, historian, and professional weirdo based out of Kansas City who has dedicated her life to pursuing knowledge of hairwork techniques as well as the peculiar history behind the art form. By creating modern pieces of Victorian hairwork and educating the public about the often misunderstood background, Courtney seeks to ensure that this sentimental tradition is Never Forgotten.
BECOME A PATRON
Winner
Best Local Craft Artist
The Pitch Best of KC 2018
Upcoming events
Victorian Hair Workers International Convention

Courtney Lane will be presenting the Keynote speech to open the conference as well as presenting a second lecture later the same day at Leila's Hair Museum.

* This event is being postponed until 2021. Please subscribe to our mailing list below for more information.
Want to keep in touch?